FOR IMMEDIATE RELEASE 
Samoan Acoustic Trio FAIVA Releases
Debut Renaissance Album: Faiva O Sāmoa 
Contact Information: Band name: FAIVA Contact: Ana Niumata Email: 
faivatheband@gmail.com Phone: 808-224-4882 Website: www.faivamusic.com 
Los Angeles, CA – Thursday, May 25, 2023 – Samoan Acoustic Trio FAIVA is thrilled 
to announce the release of their debut album, Faiva O Sāmoa. The highly anticipated 
album is set to be released on Tuesday, May 30th, 2023, and will be available on all 
streaming platforms. Fans can also pre-save the album on Spotify and Apple Music, as 
well as pre-order it on iTunes. 
Comprised of Dr. Grant Muāgututi'a, Vaea A'etonu, and Tinifuloa Grey (a.k.a Loa 
Greyson), FAIVA has been making waves in the music industry. Dr. Grant Muāgututi'a, 
a full-time linguistics professor at Cal State San Marcos, combines his education and 
passion for music to bring Polynesian melodies to life. Vaea A'etonu, who moved from 
American Samoa to pursue music, has played alongside renowned artists such as Fiji, 
Pati, Sammy J, and Common Kings. Tinifuloa Grey, son of legendary singer Fa'anānā 
Jerome Grey, appeared on NBC's The Voice Season 7 and has shared the stage with 
artists like Willie K, Amy Hānaiali'i, and Justin Young. 
Faiva O Sāmoa was recorded at The Common Kings Studio by Matt Borden in Garden 
Grove, California. The album was mixed by Kale Chang of 'Auwa'a Studios in Honolulu, 
Hawaii, and mastered by Nicholas DiLorenzo of Panorama in Melbourne, Australia. 
They have also collaborated with fellow Samoan artists Niki Mariner, JP Pereira, 
Tifaimoana Ito, Kadeesha Tautua'ā, and Joleen Faraimo in bringing together the visual 
tapestry of the album. 
The album showcases traditional Samoan music played with acoustic guitars, selo 
(upright bass), and 'ukulele, along with traditional Samoan percussion instruments such 
as pātē, fala, bamboo, and pahu drums. The music draws influence from the melodic 
storytelling traditions from throughout Polynesia. 
"We wanted to prove to ourselves that we can still produce organic and authentic music 
in this age of technology," says Tini, a member of FAIVA. "Using only acoustic 
instruments and live drumming was important to us. We hope our music stands the test 
of time." 
Grant Muāgututi'a adds, "The process of creating this album allowed us to dive deeper 
into the beauty of Samoan music. It's been an incredible journey." 
FAIVA has achieved notable milestones in their career, including being selected to 
perform at Disneyland for Asian Pacific Islander Heritage Month and being featured 
artists for the Pacific Islands Ethnic Art Museum music series. They have already
released two singles, "Valovalo Mai" on February 14th, 2022, and "Sei Leva" on 
February 14th, 2023. 
To celebrate the album release, FAIVA will be performing at API Heritage Month at 
Downtown Disney on Memorial Day, May 29th, 2023. They will also be performing with 
Jerome Grey at the Carson Samoan Flag Day on June 24th, 2023, and at the 
Oceanside Samoan Cultural Celebration on July 8th, 2023. 
For more information about FAIVA, their music, and updates, please visit their official 
website at www.faivamusic.com or follow them on Facebook 
(facebook.com/faivatheband) and Instagram (@faivamusic). Their music videos and 
performances can be found on their YouTube channel. 
FAIVA's debut album, 
Link to Press Photos
FOR IMMEDIATE RELEASE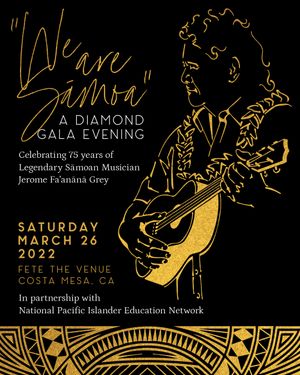 The We Are Sāmoa Gala Will Be Hosted To Celebrate Musical Legend Jerome Grey And Benefit The Pacific Islander Community  
January 11, 2022 – The We Are Sāmoa: A Diamond Gala Evening celebrating 75 years of legendary Sāmoan musician Jerome Fa'anānā Grey will be held on Saturday, March 26, 2022, at Fete The Venue, in Costa Mesa, California.  This red-carpet event will be a dynamic, entertaining evening filled with food, music, fashion, dance, and various art forms that celebrate the Polynesian culture and will feature special guests throughout the night.  
It's a once-in-a-lifetime kind of event that will bring together artists from the Pacific to pay tribute to Mr. Jerome Grey, including Lapi Mariner, American Idol contestant Reno Ano'ai, Gary King, FAIVA, Nā Hōkū Hanohano award winner, Shawn Ishimoto, award winning dance groups TUPUA, TAMA'ITA'I and many more. The event is hosted in partnership with the National Pacific Islander Education Network ("NPIEN")—a 501c3—to benefit the Pacific Islander Community through several initiatives such as general education and performing arts scholarships.   
The black-tie event will also feature a fashion show by designer Nancy Elizabeth and a live painting demonstration of a piece inspired by the NPIEN and We Are Sāmoa Gala mission by Sāmoan artist and muralist Jason Pereira ("JP"), which will be bid for in a live auction along with a silent auction happening throughout the evening.  
The event's coordinators will also use the diamond gala platform to bring awareness on the burden of diabetes and heart disease on the Pacific Islander community, a very personal mission for them—diabetes taking their mother's life in 2019 and their father, Mr. Grey, a two-time stroke survivor.   
Information on how to get involved and how to purchase tickets is on the event website. The organizers of the event are advising the public to purchase tickets early because seating is limited.   
For more information, please contact the We Are Samoa Gala team at wearesamoagala@gmail.com.  #wearesamoagala #wearesamoagala2022  
###