FOR IMMEDIATE RELEASE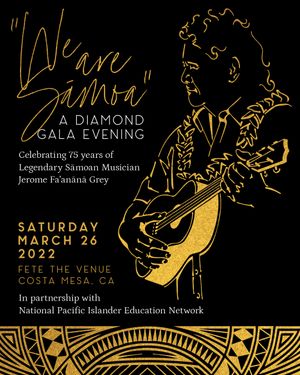 The We Are Sāmoa Gala Will Be Hosted To Celebrate Musical Legend Jerome Grey And Benefit The Pacific Islander Community  
January 11, 2022 – The We Are Sāmoa: A Diamond Gala Evening celebrating 75 years of legendary Sāmoan musician Jerome Fa'anānā Grey will be held on Saturday, March 26, 2022, at Fete The Venue, in Costa Mesa, California.  This red-carpet event will be a dynamic, entertaining evening filled with food, music, fashion, dance, and various art forms that celebrate the Polynesian culture and will feature special guests throughout the night.  
It's a once-in-a-lifetime kind of event that will bring together artists from the Pacific to pay tribute to Mr. Jerome Grey, including Lapi Mariner, American Idol contestant Reno Ano'ai, Gary King, FAIVA, Nā Hōkū Hanohano award winner, Shawn Ishimoto, award winning dance groups TUPUA, TAMA'ITA'I and many more. The event is hosted in partnership with the National Pacific Islander Education Network ("NPIEN")—a 501c3—to benefit the Pacific Islander Community through several initiatives such as general education and performing arts scholarships.   
The black-tie event will also feature a fashion show by designer Nancy Elizabeth and a live painting demonstration of a piece inspired by the NPIEN and We Are Sāmoa Gala mission by Sāmoan artist and muralist Jason Pereira ("JP"), which will be bid for in a live auction along with a silent auction happening throughout the evening.  
The event's coordinators will also use the diamond gala platform to bring awareness on the burden of diabetes and heart disease on the Pacific Islander community, a very personal mission for them—diabetes taking their mother's life in 2019 and their father, Mr. Grey, a two-time stroke survivor.   
Information on how to get involved and how to purchase tickets is on the event website. The organizers of the event are advising the public to purchase tickets early because seating is limited.   
For more information, please contact the We Are Samoa Gala team at wearesamoagala@gmail.com.  #wearesamoagala #wearesamoagala2022  
###